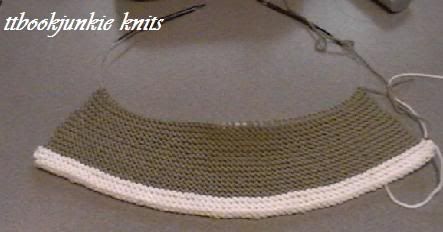 Project Highlights:
For:
Me! and the
Mariposa KAL
and the
Summer KAL
Yarn:
Red Heart Classic
Color:
Light Thyme and WhiteNeedles: US 9 (for the white) and US 7 (for the green)
Pattern:
Mariposa
designed by
Sara
. Since I am not that big a fan of Stockinette I have chosen to use garter instead. I love garter! Other then that I am following it pretty much, shocking I know!
Size:
Princess
Status:
I am working towards the second decrease row on the front section.
Will I make another?:
It depends on how it looks on me, I love the one they show in knitty so if mine comes out half that nice you betcha!