We have an FO! This is my version of
Hug
for the
Shrug KAL
. I was going to make the
wrap artist
but I was looking through my stash and I noticed I had all these little balls of blue yarn so I decided to make my self a hug.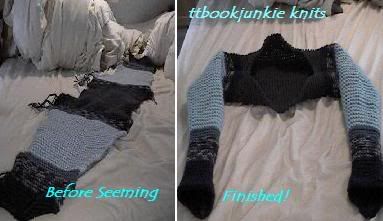 For the
Not Yarn KAL
I am still working on my straw snail bag. What I have discovered about straw is that it is a pain to work with! It is so messy and I am pretty sure that once I finished this project I will not work with straw again. My
Summer KAL
project is pretty much still
at this point
. For the
Knit Red
and one of my
purse along projects
I plan on making
Gelato
for a friend of mine in red and pink. The
Triada KAL
starts today officially but I will not be starting until I receive my IK mag around mid May. I most probably will be using Moonlight Mohair from LionBrand but still deciding. The
Mariposa KAL
starts on May 31 and I am still trying to decide on colors I thought I had my colors picked out but... there are so many choices so I will keep thinking until the start date.